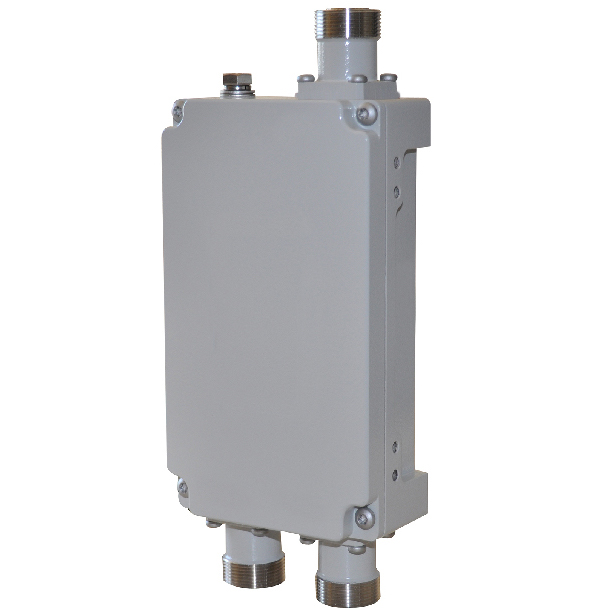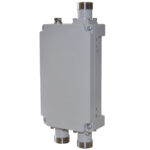 Diplexer
380-960MHz/1710-2700MHz , PIM:-160dBc
Highlights
Integrated structure design: Filter is milled from one solid piece and has no soldered parts, guaranteeing superior electrical performance.
Built-in lightning protection.
Customizable DC/AISG allows full compatibility with requiring TMAs.
Extremely lightweight and compact size.
High-power design, customizable for various applications such as 100W/200W/300W, and more.
Lower PIM, -160dBc @ 20w, tested on each port and each frequency band.
Customized products are available.
IP67 protection ensures stable performance in any environment.
| Models | Descriptions |
| --- | --- |
| D39172760S | PIM:-160dBc, Single Unit, 4.3-10 Type |
| D39172760D | PIM:-160dBc, Double Unit, 4.3-10 Type |
| D39172760S-D | PIM:-160dBc, Single Unit, DIN Type |
| D39172760D-D | PIM:-160dBc, Double Unit, DIN Type |
| | |
| --- | --- |
| Frequency | 380-960MHz/1710-2700MHz |
| Intermodulation | ≤-160dBc (IMD3 with 2×20W) |
| Insertion Loss | ≤0.25dB |
| Isolation | ≥60dB |
| VSWR | ≤1.25 |
| Power Handing | 300w Average |
| DC Bypass/AISG | MAX 3000mA |
| Lightning Protection | 3KA; 10/350µs Pulse |
| MTBF | ≥500,000h |
| | |
| --- | --- |
| Operating Temperature | -20℃ to +60℃ | -4℉ to +140℉ |
| Storage Temperature | -40℃ to +85℃ | -40℉ to +185℉ |
| Operating Humidity | ≤95% |
| Application | Indoor or Outdoor (IP67) |
Connectors
4.3-10 Female or DIN Female
Weight
1.8Kg | 3.97lb/Single Unit
3.6Kg | 7.94lb/Double Unit
Dimensions
181*103*50mm | 7.12*4.05*1.96in/Single Unit
181*103*106mm | 7.12*4.05*4.17in/Double Unit